Product Overview
Everyday Cotton Twill Cap
These custom embroidered baseball caps are popular and affordable. Choose from a variety of colors to suit your client's needs.
100% cotton twill
6-panel
Adjustable hook and loop closure
*97/3 cotton/spandex
Custom Embroidered Hats
We embroider each cap with 100% polyester threads for strength and durability. Your quote includes unlimited stitches and thread color changes for flat embroidery. (3D puff coming soon.)
Why Personalize Hats?
Personalized hats are stylish, practical, and great for both businesses and individuals. With no order minimums, you can order as few as one custom hat.
Image Guidelines
File Requirements
We highly recommend submitting your embroidery graphics as raster graphics (PNG) with a resolution of at least 300 DPI.
Do not include photographic images, gradients, fade or blend effects.

Elements like these cannot be embroidered.
Graphics should include transparent backgrounds.
If your graphic covers a very large part of the embroidery area, it may exceed the maximum limit of 15,000 stitches. In such case, your order will be put on hold and you will be contacted.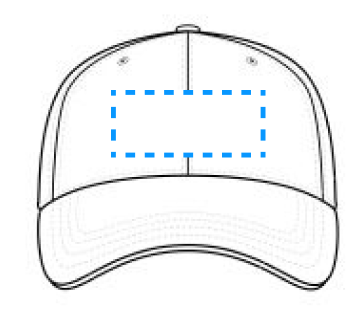 Stitch Area 4" Wide x 1.75" Tall
Minimum thickness for shapes: 0.05" (1.3 mm)
Minimum height for lowercase letters: 0.25" (6.4 mm)
Minimum height for uppercase letters: 0.3" (7.6 mm)
Any text smaller than 0.25" (6.4 mm) in height will be a run stitch
Design Requirements
Embroidery is not printing, so most designs that work on other products would not be suitable for embroidery. Clean designs with bold lines and text work best for embroidery. If your design is too complex (e.g. contains gradients or intricate details), your design will be rejected.
Common Reasons for Rejection
Text is too smal; lines are too thin
Avoid using very small letters because the embroidered text may not be legible. Keep the text at least 0.25" in height and at least 0.05" thick. 0.25" is equivalent to approximately 36pt, and in most cases the letters will also have the necessary thickness, but this depends on the font. We recommend using simple fonts like Arial, Helvetica, and Myriad Pro.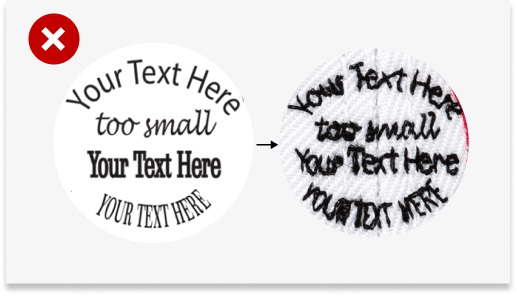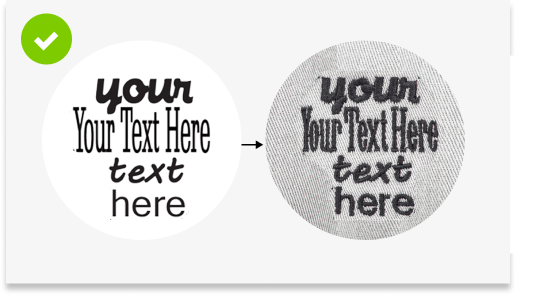 Text Cut-Outs or Negative Spaces
When possible please avoid sending us an image with small details or text that are in negative space. To avoid this issue please fill the negative space with a solid color.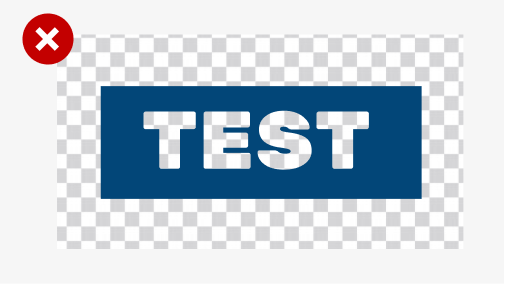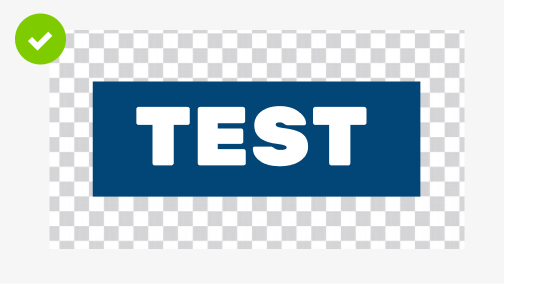 Gradients
We can only embroider solid shapes and colors. We cannot accept gradients because this requires a complex transition from one color thread to another. You will need to convert gradients into a one-color graphic, and split multiple-color gradients into solid colors.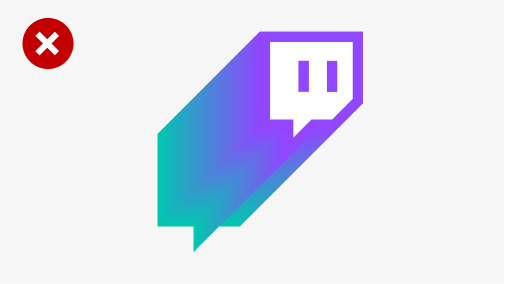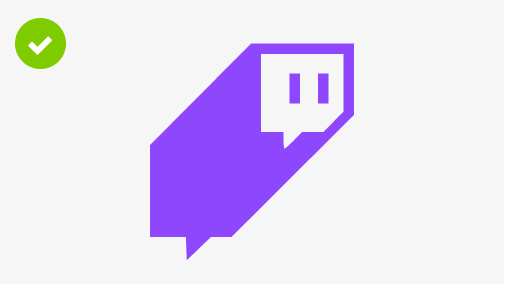 Photographic images
It is not possible to embroider photographic images as they are. Photographic images need to be recreated to include solid shapes and colors.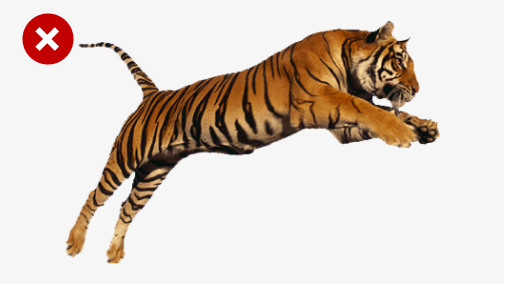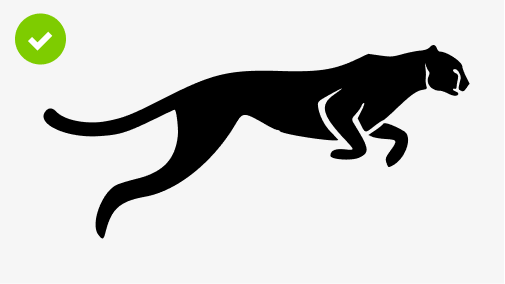 Too much detail
Clean designs with shapes, bold lines and text work best for embroidery. If your design is too complex and contains too much detail, we will not be able to digitize your design with satisfactory results (e.g. when details are smaller that 0.05" or if detail elements are to close to one another). Your design will be rejected.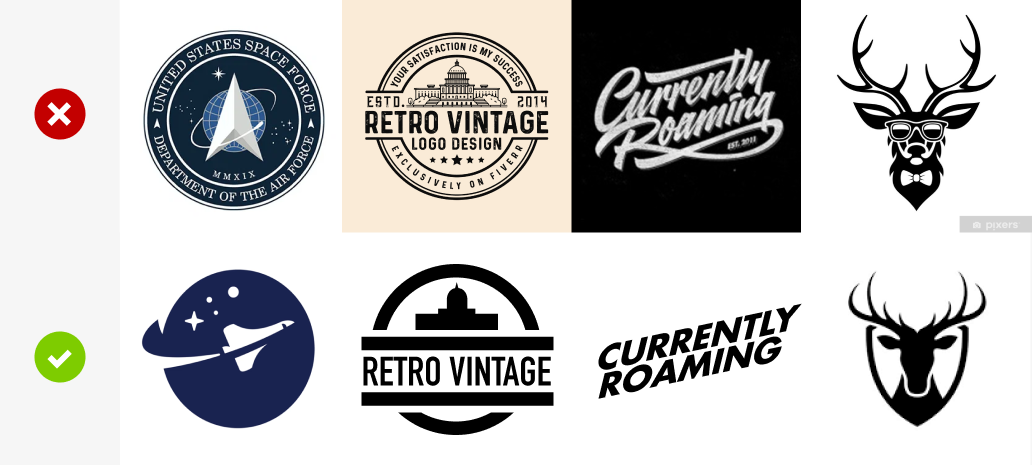 Please avoid Thin border lines around text or Graphics
Keep your text and images simple, adding a border around them will cause missalignment, therfore we highly recomend that you do not use thin borders to outline your text or images. Keep your text large, bold and readable.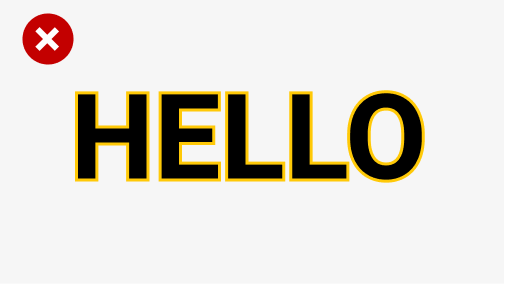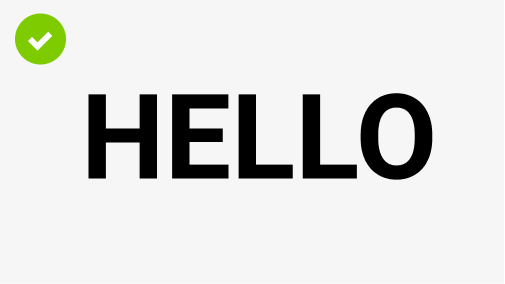 Acceptable Content Guidelines
The Campaign Super Store Inc is respectful of others and the law. Content that is hateful, illegal, and/or that violates intellectual property rights may be reviewed and removed at any time.
Intellectual Property Rights
Please ensure that you own the content that you upload onto The Campaign Super Store Inc, or have the rights to use, display, and resell it. Content must comply with right of publicity, trademark, and copyright laws.
Illegal Content
The Campaign Super Store Inc has the right to remove content that depicts child pornography, obscene content, or content that depicts or promotes illegal activity. It is your responsibility to understand and abide by your local laws and those of the regions that you ship orders to.
Hateful Content
The Campaign Super Store Inc values tolerance, understanding, and respect. We may remove content that expresses hatred towards any individual or group. Please refrain from uploading this type of content.
General Notes
All content is subject to review and The Campaign Super Store Inc reserves the right to remove it at any time and for any reason. Each case may be evaluated individually. By submitting content to The Campaign Super Store Inc, you accept that it complies with both our guidelines and Terms of Service. This Policy shall be governed and interpreted in accordance with the English language, regardless of any translations made for any purpose whatsoever.
Reviews